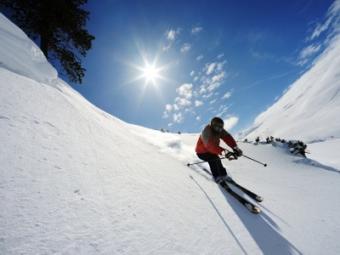 Do you want to find some excellent snow skiing pictures? There is nothing quite like the image of a beautiful mountainside covered in fresh white powder with a skier carving out a curved line right down the middle of it. If it's been awhile since your last ski trip, looking at photos of skiers in action can help you bide the time until you're up on the slopes again. Professional photographers have long liked to photograph skiers, and photo hobbyists are getting more into the act as more and more smart phones become equipped with quality cameras. So whether you're looking for professional photos or creative amateur snapshots, the Internet is a great place to track down snow skiing pictures.
Finding Snow Skiing Pictures
There are many sites on the web that specialize in hosting photos for various sports, and some photographers that specialize in snow skiing photos have their own websites where they post their work. The following sites are great places to find beautiful snow skiing photos. Many sites will allow you to browse for free, but they also sell the photos to you if you want to download them. The prices usually vary depending on the quality of the file that you need to download. For those who want to order prints, many sites will do that for you as well.
Inmagine - Inmagine has 65 images of epic skiing available for download. A mixture of action shots, scenery, and portraits are offered.
On the Snow - On the snow has over 10,000 skiing photos to browse through. If it has something to do with skiing, chances are there is a photo of it on this site.
Acclaim Images - Snow skiing photos, images, clip art, and stock photography are available at this excellent site.
Turns All Year - Turns all year has a great collection of photos for a variety of skiing from backcountry telemark to ski touring to randonee skiing.
Habeeb - If you didn't think you could ski in Lebanon, you're wrong. This site has some incredible photos of people snow skiing in the country of Lebanon.
John Dougall - Photographer John Dougall is one of Canada's most dedicated ski photographers, and this site showcases his work and philosophy.
Ethan Stone - Another notable ski photographer is Ethan Stone, and his website has some beautiful images of skiers doing what they love to do best.
Get Inspired
Unfortunately, most people can't spend as much time on the ski slopes as they would like. With the medium of photography, however, you can still appreciate what makes the sport so beautiful even when you're miles and miles from your favorite mountain. Finding different types of snow skiing pictures is really a breeze if you know where to look, and once you find them, you'll be sure to stay inspired as you wait for that first snowfall of the season.