Skiing enthusiasts don't have to travel all the way to the Rocky Mountains to have a great time on the slopes. With more well-rated ski resorts than any other part of the country, the east coast serves up high-quality snow and enjoyable terrain for skiers east of the Rockies.
1. Loon Mountain (New Hampshire)
---
Nestled in New Hampshire's White Mountains, Loon Mountain is a family-friendly ski resort that boasts seven award-winning terrain parks and three peaks spread across 370 acres of skiable terrain. Loon Mountain caters to intermediate skiers but offers a few advanced runs as well as two parks for children, and a ski and snowboard school. The resort features:
2,100-foot vertical drop
61 trails
12 lifts
425-foot super-pipe with 18-foot walls
Resort-goers can also enjoy activities such as day or night snow tubing, winter zip-lining, snow shoeing, and cross-country skiing.
Loon Mountain received TripAdvisor's Certificate of Excellence in 2014, and reviewers praise the resort for its mixed terrain and variety of lifts.
2. Whiteface Mountain (New York)
---
Whiteface Mountain is a gem of a ski resort tucked away in New York's beautiful Adirondack Mountains, near the charming village of Lake Placid. The resort is known for hosting the 1980 Winter Olympics and currently serves as the headquarters for the New York Ski Educational Foundation. Whiteface features an impressive 3,429-foot vertical drop - the greatest on the east coast - and a third of its 87 trails are rated for expert skiers. The resort has:
225 skiable acres
10 lifts
Terrain parks
Olympic ski-jumping complex
Four ice-skating rinks
SKI Magazine included Whiteface Mountain in its 2014 list of the best ski resorts in the east. EpicSki.com reviewers compliment the resort on its challenging trails and high-speed gondola.
3. Holiday Valley (New York)
---
Holiday Valley is a ski resort located in Ellicottville, New York that caters to families. The resort offers nine ski instruction programs to meet the needs of children of all ages, as well as lessons for adults and daycare services for little ones who are too tiny to hit the slopes. Holiday Valley also offers plenty of trails to keep intermediate and advanced skiers busy and challenged. Amenities include:
290 skiable acres
750-foot vertical drop
58 trails
13 lifts
Families can also take advantage of activities such as snow tubing and sleigh rides, and enjoy the resort's roller coaster-like mountain coaster ride.
Holiday Valley was also featured in SKI Magazine's list of best resorts in the east. The resort garners high praise from TripAdvisor reviewers who enjoyed Holiday Valley's family-friendly atmosphere and excellent amenities.
4. Gore Mountain (New York)
---
Hidden away in the Adirondack Mountains on Peaceful Valley Road, Gore Mountain is an alpine ski resort that boasts the most skiable acreage in the state. The resort features four unique peaks and 104 trails, with runs for beginner, intermediate, advanced and expert skiers. Other amenities include:
Nearly 500 skiable acres
2,537-foot vertical drop
15 lifts
The Huffington Post included Gore Mountain in their collection of the best places to ski east of the Rockies, and TripAdvisor reviewers give the resort high marks for well-groomed terrain, high-speed lifts, and beautiful scenery.
5. Sunday River (Maine)
---
Located in Newry, Maine, Sunday River is a popular ski resort that boasts "the most dependable snow in New England," thanks to one of the most advanced snowmaking systems in the region and a snow budget of approximately $2.5 million per year. Sunday River features 743 skiable acres and offers trails for skiers of all ability levels. The resort has:
133 trails
8 interconnected mountain peaks
2,340 vertical drop
16 lifts, including a "chondula," described as part chair lift, part gondola
5 terrain parks
Super-pipe
Mini-pipe
Guests can also enjoy activities such as ice skating, snowshoeing, zip lining, and snow tubing. On-site, slope-side accommodations are available at the Grand Summit Hotel and the Jordan Hotel.
Family Vacation Critic named Sunday River one of the 10 best ski resorts on the east coast and Yelp reviewers rave about the resort's food, amenities, and ski-and-stay packages.
6. Killington Resort (Vermont)
---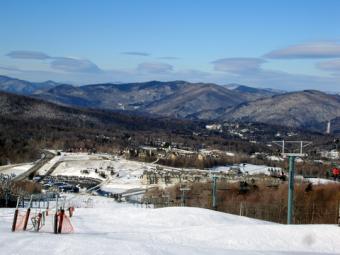 Situated on 3,000 sprawling acres in central Vermont, the Killington Resort, also known as the Killington Mountain Resort and Ski Area, is a family-friendly ski resort that offers extremely diverse terrain, with trails for beginner, intermediate, and advanced skiers. Hailed as "the Beast of the East," Killington features 752 skiable acres spread over seven mountains and 99 miles. Other ski amenities include:
212 trails
6 terrain parks
3,050-foot vertical drop
430-foot super-pipe
Killington guests can also take advantage of ski and snowboard lessons, as well as activities such as snowmobile tours, dog sledding, snow tubing, and snow shoeing. The resort was included in International Business Times' article, Ski Season Preview: The Best of the East. On the Snow reviewers praise Killington Resort for its varied terrain, family-friendly atmosphere, and thriving nightlife.
7. Sugarbush Resort (Vermont)
---
The Sugarbush Resort is a gloriously-uncrowded ski resort spread between two mountains and 578 skiable acres in northern Vermont's Mad River Valley. The resort's steep slopes cater to intermediate and advanced skiers, but Sugarbush also offers beginner runs, and the on-site ski and ride school offers ski and snowboarding instruction for skiers of all ability levels. Amenities include:
2,600-foot vertical drop
111 trails
20 wooded areas
16 lifts
Sugarbush also offers a wide variety of other winter sport activities, including snow shoeing, ice skating, and ice fishing. After a long day on the slopes, guests can relax and enjoy the indoor pool, spa, steam room, and sauna in the Sugarbush Health and Racquet Club.
In 2011, SKI Magazine ranked Sugarbush the number one resort for terrain variety and TripAdvisor reviewers tout the resort's "awesome skiing" and challenging terrain that offers something for everyone.
8. Smuggler's Notch (Vermont)
---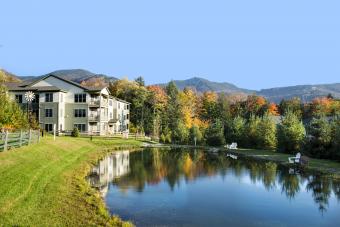 Nestled in the Town of Cambridge, Smuggler's Notch is one of the most popular ski resorts on the east coast. Nicknamed "Smuggs" by locals and regulars, the resort consists of three mountains: Madonna, Sterling, and Morse. It is named for the narrow mountain pass that runs adjacent to Sterling Mountain, which was at one time a popular smuggling route. The resort offers ski and snowboarding lessons for children as young as 2 1/2, and has trail runs for beginner, intermediate, advanced, and expert skiers. Amenities include:
More than 300 acres of skiable terrain
78 trails
2,610-foot vertical drop
Family members who are uninterested in skiing can enjoy an array of activities at the FunZone Family Entertainment and Recreation Center, which includes an arcade, obstacle course, pirate ship, bouncy house, and giant sliding board. The resort also boasts a child care center, indoor pool and hot tubs, and a massage center.
SKI Magazine has rated Smuggler's Notch the number one resort for family vacations for 15 consecutive years. On the Snow reviewers praise the resort's varied terrain, well-groomed trails, and activities for non-skiers.
9. Mount Bohemia (Michigan)
---
Tucked away in Michigan's Upper Peninsula, Mount Bohemia is a 1,100-acre adventure ski resort with more than 500 acres of natural, ungroomed terrain. The resort boasts a strict "no beginners allowed" policy and is particularly popular with backcountry skiers and riders. Mount Bohemia offers 94 "extreme" runs, as well as:
900-foot vertical drop
2 lifts
Slope-side accommodations
MSN.com has hailed Mount Bohemia as one of the top 10 undiscovered ski resorts in the world. Yelp reviewers love the resort's challenging terrain and relaxed, uncrowded atmosphere.
10. Stowe Mountain Resort (Vermont)
---
Located in northern Vermont, the Stowe Mountain Resort is a popular luxury ski resort comprised of two mountains, Mount Mansfield and Spruce Peak, that are navigated via gondola. Resort-goers can enjoy 485 acres of skiable terrain, with runs available for beginner, intermediate, and expert skiers. Stowe Mountain Resort features include:
2,160-foot vertical drop
116 trails
6 terrain parks
Ski and snowboard lessons are available for skiers of all ages and ability levels. Luxury accommodations and spa services are available at the on-site, 312-room Stowe Mountain Lodge.
Stowe Mountain Resort was named one of the 10 best ski resorts on the east coast by Family Vacation Critic and Yelp reviewers rave about the resort's phenomenal trails and excellent dining options.
Though less well-known than their western counterparts, the east coast's best ski resorts can provide ski vacations that are just as memorable. One of the best-kept winter vacation secrets, ski resorts in the eastern United States offer something for everyone.