Colorful Snowboard Clip Art
Snowboard clip art is a creative way to add visual appeal to everything from invitations and decorations to templates for your snowboard and helmet. This image of four colorful snowboards shows the type of artwork and design you can find on a modern snowboard. The set features a turquoise, dark blue, magenta and lime green board and can be used together or separately with a photo editing program.
Happy Little Snowboarder
This clip art image is great for kids who are excited about snowboarding. Consider a snowboard themed party for your little boarder, complete with a snowboarding birthday cake! The child looks joyful gliding through the air on his snowboard, and he's dressed for winter weather with his scarf, coat and gloves.
Snowboard Jump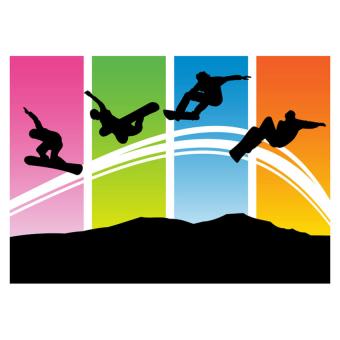 Color and style make this cool jump sequence really pop. The set displays four silhouettes of snowboarders in different jump positions across four multi-colored panels. You can get an idea of how a snowboarder moves across the sky during a jump by following the sequence of images.
Snowboarding Snowman
Even Frosty gets in on the act with this fun image! This snowman is shredding up the slopes with his cool flame-decorated snowboard, complete with matching gloves, scarf and hat. Who knew Frosty could tear it up with the best snowboarders? Look at Frosty go!
Extreme Snow
This image would look great on the wall. This clip art has three snowboarders in motion down the hill, with the two rear snowboarders shown in black silhouette. You can think of the image as three snowboarders following each other or a set of images of the same snowboarder as he moves down the hill.
Grabbing Big Air
This clip art image could be a great fit for a party flyer or invitation. The snowboarder is shown performing a trick called a frontside grab. This is when a snowboarder heads off a jump and grabs the front (toe) edge of the board with their trailing hand as they move into the air.
Snowboarding Tricks
Try these silhouettes with just a bit of color. There are four background colors of yellow, green, blue and orange with a starburst pattern. On each background, there is a silhouette of a snowboarder in different jump positions and tricks including a variety of grabs and potentially 360 degree spins.
Line Art Sequence
Here is another awesome sequence where you can get really creative. The striking yellow line art of the snowboarder increases in brightness and intensity as you move from left to right, creating the illusion of motion. The snowboard jump is set off against a medium gray background.
High Flying Boarder
This snowboard clip art can inspire you to fly higher. The snowboarder, wearing an orange jacket and mustard yellow snow pants, is balancing himself on a bright yellow snowboard as it moves down ready to take the next hill. The contrast against the pale blue background really helps the snowboarder jump off the page.
Boarder Silhouettes
These silhouettes just beg for you to get creative with them. This set of eight snowboarders are standing in different positions with their snowboards, waiting to get out to tear up the slopes and have a fun time enjoying their sport. Use them all together or individually.
Be a Rock Star
Show everyone that you are a superstar snowboarder! This fun clip has a blue silhouette of a snowboarder doing a mute grab trick. The silhouette is set against a background of many multi-colored stars for an extra festive display.
If you enjoyed this collection of snowboard clip art, a series of skier silhouette images may be up your alley too.