A Snow Day
There is just something decidedly striking about capturing the silhouettes of skiers and their ski gear, especially against the stark white background of fresh powder and invigorating sunshine. It's a beautiful sight as you get yourself amped up for your next visit to the ski hill.
Austrian Alps
Life is about finding a balance in all things: the dark against the light, the fast against the slow, and the personal against the social. While the adrenaline gets pumping as you gracefully bomb your way down the mountain, a gentle ride on a chairlift in the Austrian Alps can be remarkably calming.
Quiet Contemplation
There are many forms of and health benefits to meditation. Some people might find their respite in a yoga studio, whereas others discover their peace and solitude at the top of a mountain. This skier enjoys a moment of quiet contemplation before he approaches a ski run in Nizke Tatry, Slovakia.
Ready to Ski
Sometimes, the simplest images can also be the most striking. In this particular photograph, you can see the silhouette of a man getting ready to hit the slopes. He has his pair of skis in one hand, and his ski poles are firmly planted in the ground next to him. This is the beginning of what will be a great day.
Out of the Light
Presenting a remarkably stunning moment captured in time, this photograph depicts a couple of skiers at the top of the hill with just a sliver of sun peeking out behind them. The sharp contrast between their dark silhouettes and the barely lit, cloudy sky makes for quite the sight.
Half-Pipe Jumper
When most people think about the most common types of skiing, downhill and cross-country skiing are usually the varieties that come to mind. For the more adventurous, freestyle skiing can include more unique experiences, including thrilling jumps and tricks in the half-pipe.
Mount Etna Chairlifts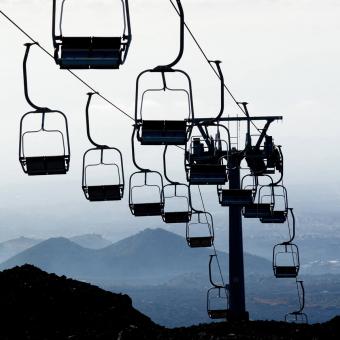 Skiing enthusiasts can find world class resorts in many corners of the globe, from Whistler Mountain in Canada to the Swiss Alps. For your next holiday in Italy, you may consider heading up the hills at Mount Etna in Sicily. Europe's largest active volcano is also home to some great ski resorts!
Caught in a Snowstorm
There is nothing quite like having an entire ski run all to yourself. You're free to carve to your heart's delight and the isolation can be a great source of inner peace, like you are one with the mountain. But when you realize you're alone because you're caught in a snowstorm, you may just become one with the mountain.
Down the Slope
If you're looking for an action shot with a skier silhouette going down the slope, this image will fit the bill. You can see the wafts of kicked up snow in his wake as he zig-zags his way down the mountain. This is the thrill of alpine skiing at its absolute best.
Skiing at Sunset
All great things must come to an end, but this truly is the perfect end to a perfect day. After a full day of backcountry skiing surrounded by nature and breathing that glorious fresh mountain air, bask in the glory of a breathtaking sunset and prepare to do it all over again tomorrow.
Skiing can be both a thrilling and a relaxing hobby for enthusiasts of nearly any age. When you're surrounded by beautiful snow scenes at a world class ski resort, it really doesn't get any better.