New Zealand Heli Skiing in Wanaka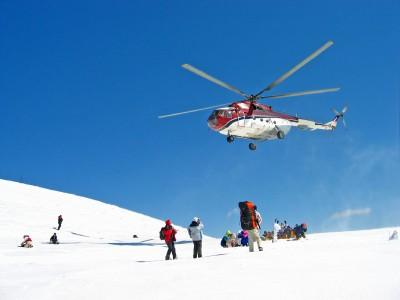 Challenge yourself with New Zealand Heli skiing in Wanaka. This form of skiing is designed for those who dare to go extreme and want an adventure that they will never forget.
About Heli Skiing
Heli skiing is skiing that is downhill but the catch is that there is no chair lift. The slopes are accessed by helicopter only. Skiers unload from the helicopter and hit the slopes from the air. This form of skiing has its risks and is not meant for those who are beginners. One of the biggest risks of heli skiing is avalanches. Many skiers who try heli skiing never go back to the traditional lifts.
New Zealand Heli Skiing in Wanaka
Wanaka, New Zealand is well-known for its outstanding scenery and picturesque views. It is located close to Queenstown and is home to what some say is the best heli skiing in the world. Heli ski season is from July to the end of September.
There are several ways to try New Zealand heli skiing in Wanaka. The most important thing is to use a well-trained pilot and guide. There are several companies that are experts in heli skiing. Check out the following:
Adventures Today
Adventures Today offers several heli skiing options. Each works the same way. The weather is checked early in the morning to make sure that the conditions are safe and condusive for skiing. You will then be picked up and given a safety meeting then taken by helocopter to your first run. Lunch will be provided, then more skiing in the afternoon.One option is to ski Mount Cook. Mount Cook is the highest mountain in New Zealand. The heli skiing package include five to seven runs. A guide will take you to the best locations and conditions that the mountain has to offer. A gourmet lunch is also included in the day. For an extra fee, a video can be provided to document your experience.
Southern Lakes Heliski & Heliworks
Southern Lakes Heliski & Heliworks gives group tours as well as offers heli skiing. They have been operating heli skiing for over 20 years and have experienced guides and pilots. Groups of five or less people are taken skiing on pristine mountains. The terrain of the day depends on the weather and the skiers' abilities as well as the snow conditions on the mountains. A lunch is provided to skiers as well as transportation between your lodging and the staging area.
Harris Mountains
Harris Mountains has packages including those for heli skiing. Packages start out for skiing three runs but can include more runs for an additional cost. Lunch and safety equipment are included in the packages and video of the day can be done if requested ahead of time. Harris Mountains offers a variety of runs from those in the sun to those in the shade. They have a wide range of skiable areas to choose from making them one of the top operators for heli skiing.
What to Take Heli Skiing
So once you decide that you want to try heli skiing, do you know what to take with you for the day? Obviously, space is limited on a helicopter so there is a limit what to take. Your best option is to store your necessities in the pockets of your pants and jacket or to take a waist pack with you.
Some things you will need include:
Sunscreen
Water
Toilet paper
Most heli skiing operators will provide you with the necessary safety equipment as well as provide a lunch, so don't worry about those items.