Have you ever wondered where the longest ski runs in the world are located? It probably comes as no surprise that the longest ones are in Europe, more specifically, in the iconic Alps. But what about ski trails in other parts of the world?
Chamonix, France: Longest in the World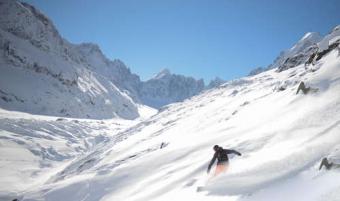 Located in the French Alps at the base of Mount Blanc, Chamonix offers 2,738 meters (8,983 feet) of vertical drop, and the Vallée Blanche run stretches approximately 14 miles. According to Live Outdoors, it's the longest run in the world.
Chamonix notes that some of its routes are only recommended for advanced skiers with extensive off-piste experience, and intermediate skiers should only attempt with a qualified high-mountain guide. The views are stunning, but with a risk of avalanches and serac falls, it's definitely a more risky run.
If you're looking to ski in Chamonix, there are five ski resorts in the valley. You can rent ski equipment, take lessons, and hire guides here as well. Be sure to monitor the Chamonix ski website to verify opening dates and times for each season.
Longest Runs in North America
North America is home to a number of world-class ski destinations in both Canada and the United States. If you're looking to tackle the longest ones in North America, check these out.
Revelstoke, BC, Canada
Revelstoke in British Columbia is said to be both the biggest vertical and the longest run in North America. According to Red Bull, Revelstoke sports the highest vertical at 1,713 meters (5,620 feet), and descends from 2,495 meters (8,153 feet) down to 782 meters (2,565 feet). The longest run at Revelstoke is 9.5 miles. As far as overall size, it's comparable to popular US resorts like Breckenridge.
If you've never heard of Revelstoke, it's located on Mount Mackenzie. The city of Revelstoke itself is located on the Columbia River and it's about 400 miles from Vancouver and 250 miles from Calgary.
Revelstoke is one of the newest resorts in North America, opening its slopes in 2007. Not only do they have the greatest vertical, they have over 3,000 acres of fall line skiing, high alpine bowls, and renowned gladed terrain. Revelstoke claims to be the only resort world-wide to offer lift, cat, heli, and backcountry skiing from a single base. Don't fret if you are a beginner or traveling with family, as they also have Turtle Creek Tube Park, which is great for families, and the Beginner Area in the center of the Village.
Be sure to check Revelstoke's website for operating hours during the summer and winter.
Jackson Hole, Wyoming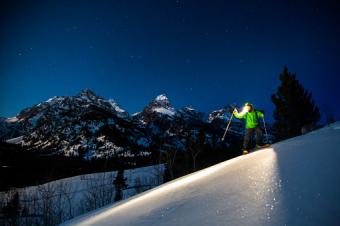 When it comes to the longest ski courses in the United States, the honor goes to Jackson Hole, Wyoming, for its biggest continual vertical run. Not only does it have the longest continual vertical run, Ski.com notes it's also one of the world's most challenging resorts.
At Jackson Hole, you'll start at 1,262 meters (4,139 feet) at the top of Rendezvous Peak then head down through Rendezvous Bowl. The longest descent, which is the longest in the US according to Liftopia, is seven miles.
Jackson Hole offers a variety of things to do in addition to skiing. Spend a day at Grand Adventure Park and go mountain biking, ride the tram, free fall from the new drop tower, attempt the rope course, and more.
Getting to Jackson Hole is pretty easy as several major airline carriers fly direct from hubs like Atlanta, Chicago, Dallas, and San Francisco. Once you're on the ground, it's around 30 minutes to the resort by taxi, rental car, or shuttle.
Longest in Australia: Thredbo
You might not think of Australia when it comes to skiing, but the continent is home to a number of renowned ski courses. Thredbo is often called the longest run in Australia, but it's not the distance that earns it that rank. It's the longest vertical at 672 meters (2,205 feet). There are five courses within Thredbo that are all over 1.86 miles long, with Village Trail coming in at the highest with a distance of 3.11 miles.
Located in Kosciuszko National Park, Thredbo is open 365 days a year. While skiing is the main attraction during the winter months, visit during the summer and you can explore scenic biking and hiking trails instead. Kosciuszko National Park is where you'll find some of Australia's tallest mountains, which may be more akin to "hills" when compared to some of the massive ski mountains elsewhere in the world. The mountains in Australia are very old, so there is a lot of erosion, making them more rounded at the top versus other mountains elsewhere in the world.
If you're looking to check out Thredbo's slopes -- it's about a six hour drive from either Sydney or Melbourne, or 2.5 hours from Canberra.
Longest Ski Trails in Asia
While it might not initially come to mind when you think world-class ski resorts, Asia is home to some impressive runs. Try out one of the following.
Japan
This island country has some incredible mountains for winter sports. The Myoko Kogen Ski Area is made up of nine main mountain resorts, with the resort of Myoko Suginohara claiming the longest run in Japan, about 5.3 miles and a vertical drop of 1,124 meters (3,688 feet). Akakura Onsen Ski Resort boasts the steepest ski run in Central Japan (38 degrees), and is referred to as "The Wall."
The Myoko Kogen Ski Area resides on Mount Myoko, which receives some impressive snowfall in the winter and has been called the twin to Zermatt in Switzerland. Despite that, Suginohara is considered one of the top Japanese resorts for beginner skiing.
The Myoko Kogen Ski Area is a great base for exploring Myoko and nearby attractions, and it is easily accessible from Tokyo.
China
According to Ice Festival Harbin, China's longest ski run is at the Yabuli Windmill Mountain Resort. It's the oldest resort in China and has Central Asia's longest toboggan run (3.10 miles). Its longest ski run is 1.86 miles and has a vertical drop of 805 meters (2,641 feet).
You'll find that lodging can be limited in the general Yabuli resort area, which is still about 12 miles from the town of Yabuli itself. Options range from a youth hostel to luxurious rental villas. There are other activities during the summer months, like mini golf, tennis courts, hot-air balloons, and more.
The area gets a large amount of snow, primarily due to its high elevation. Travel China Guide recommends November to late March as the best time of year to ski here.
Getting to Yabuli can be a trek as it's 124 miles east of Harbin and 75 miles west of Mudanjiang in Shangzhi City.
Longest Ski Course in South America
According to USA Today, the longest ski run in South America is located at Termas de Chillan, which is a ski and spa resort in Chile with 22 miles of trails. The longest ski run, Las Tres Marias, measures eight miles, and has a vertical descent of 1,100 meters (3,609 feet). Not only is it the longest, it's one of Chile's most scenic. You'll see trails, forest, fumaroles, and the Chillán volcano from the base of the resort. Don't miss the pools of hot spring waters either.
Las Tres Marias is great for advanced skiers as well as skiers who are new to the sport, while other circuits are specifically designed for intermediate skiers. If you are brand new to skiing, consider signing up for the ski school, which has instructors who have skied at some of the best resorts in the world.
A number of resorts at Termas de Chillan, including the Grand Hotel, have popped up at the base of the mountain. With chairlifts located right nearby, you can practically leave your room and hop on a lift. If you want to try other snow-related sports, there is snowboarding, snowmobiling, and dog sledding nearby. The nearest airport is Concepción Airport, while the closest train station is Chillán.
Skiing Around the Globe
Whether you are up for a challenging, mind-blowing vertical or an easy-going groomer, there are so many reasons to try any one of these amazingly long ski runs. On top of enjoying yourself, you will certainly have some bragging rights!