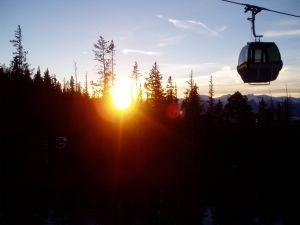 In the past decade, Keystone has evolved into a three-mountain adventure playground, with terrain that's suitable for beginners, intermediate cruisers and expert adrenaline junkies. Beginners love the long, wide runs, which allow them to practice new skills without constant returns to the lift lines. Intermediate skiers and snowboarders enjoy the wide blue runs. Experts explore the backcountry, and those who like to show off their tricks have fun in the A51 Terrain Park.
Keystone Ski Resort Mountain Stats
Keystone boasts:
3,148 acres of varied terrain
3,128 vertical feet
121 trails
20 lifts including two gondolas, one express six-pack and five high-speed quads
Night skiing
Tree skiing
The resort gets an average of 240 inches of snowfall. It is usually one of the first Colorado ski resorts to open. Additionally, it is the only Summit County ski resort to offer night skiing. Keystone is comprised of three mountains, each with their own unique appeal.
Dercum Mountain
Dercum Mountain was named after Keystone's founders, Max and Edna Dercum. It has over 50 beginner and intermediate trails. Dercum Mountain is also home to the River Run Gondola, which can be a blessing when winds are high and temperatures are plunging.
The A51 Terrain Park
The A51 was originally built with the hopes of attracting the X-Games and other freestyle competitions. However, the Keystone Ski Resort management also wanted a park that was doable for the average skier or snowboarder. Beginners usually start in Freda's Incubator and progress to the medium-sized lane in A51. After experiencing A51, it's easy to understand why Transworld Snowboard Magazine ranked it as one of America's best terrain parks.
North Peak
North Peak boasts an interesting variety of advanced intermediate and expert terrain. In fact, if you find yourself feeling unchallenged by the Dercum Mountain terrain, ski through the tree run called Windows, or take the Outpost Gondola to North Peak. This mountain is known for its Volkswagen-sized moguls, which can be found in Ambush, Powder and Powdercap. If you're not up for moguls, Starfire and Prospector are long, advanced intermediate cruisers.
Outback
In 1990, Outback was added to the Keystone Ski Resort. This addition caused people to rethink their distinction of Keystone as an easy terrain resort. The Outback offers over 800 acres of glades and bowls. A short hike from the Outback Express lift offers skiers and snowboarders a chance to play in the steep, wide-open bowls of South Bowl and the steep chutes and deep powder in North Bowl.
The Keystone Adventure Tour
The Keystone Adventure Tour, also known as KAT, offers skiers and riders a guided snowcat tour through 300 challenging acres of Independence Bowl terrain. Some people describe it as "backcountry lite," since it eliminates the need for climbing the hill to earn your turns. A delicious lunch is served at the Independence Yurt, where you can enjoy homemade breads, soups and desserts, along with a scrumptious selection of cheeses, meats and salads. The meal is catered by the upscale Alpenglow Stube, which is located on North Peak Mountain.
A team of ski patrollers guide the Keystone Adventure Tour. While this is good news for anyone with safety concerns, keep in mind, patrollers are not ski instructors. Since backcountry skiing is often synonymous with powder skiing, if your powder skills are not up to par, it behooves you to take a lesson with an instructor from Keystone's renowned ski and ride school.
Keystone is a member of the Vail Resorts family. This means that in most cases, it's possible to purchase a Keystone lift ticket that can also be used at Breckenridge, Arapahoe Basin, Vail or Beaver Creek.